**In order to best serve our clients and patients, we are not accepting any more boarding reservations at this time-- effective July 2021.
If you have further questions or would like an update on this matter, please email us at [email protected].
Thank you for your patience and understanding! We hope to offer boarding services again in the future.
---
Boarding your beloved feline with Bay Animal Hospital: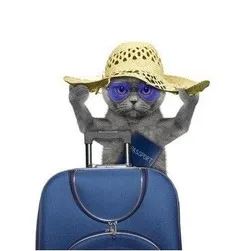 Due to a high demand for our services, boarding is limited to current & active clients & patients of our hospital.
Our clients are always our first priority & this allows us more availability to meet your boarding needs.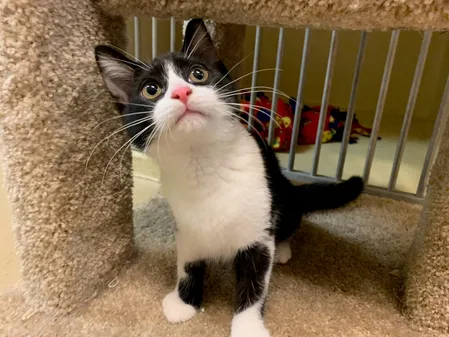 What's provided at our home-away-from-home:

--Beds, blankets, & cat cozy's (pink boxes in pictures below).
--Food & water bowls.
--Veterinarian-approved toys, safe for your kitty. We even have a cat tree, tunnels & a tent for your kitty's enjoyment.
--Though we recommend avoiding drastic diet changes by bringing your cat's usual diet for their stay, veterinary-grade canned & dry food can be provided at no extra charge if needed. (We carry digestive-sensitive diets to do our best to prevent gastrointestinal upset in your cat.)
--Veterinary-grade treats offered at no extra charge.
**Due to limited storage, we ask that you do not bring any personal items that your cat does not need during their stay with us. As always, we want your pet to be as comfortable as possible, so if you have questions regarding this, please don't hesitate to call our office to speak with a boarding staff member. 989-893-4549
---
Our cage options: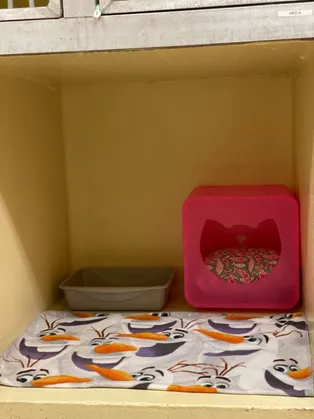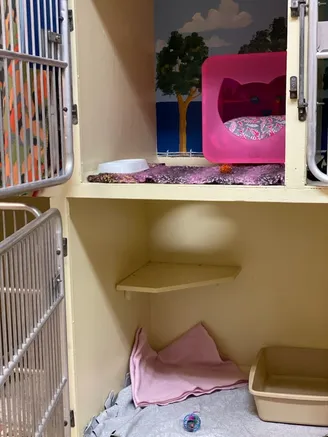 --Small: 3ft x 2ft x 3ft; $24 (pictured left)
--Medium: 3ft x 3ft 3ft; $26 (pictured middle)
--Multi-level kitty condo: top level: 2ft x 2ft x 2ft & bottom level: 3ft x 3ft x 3ft; $30 (pictured right)
Cage & pricing notes:
Cage prices are per 24 hour period;
(If your cat is in a small cage & arrives at 10am Monday, departs 10am Tuesday, the cost would be $24. If they depart 6pm that same day, the cost would be $12).
If you are needing care for more than one cat, boarding them in the same cage may be an option;
(The cage size, pet size, & number of pets in one cage, must be approved by our boarding staff. If approved, our staff reserves the right to separate pets during their stay if we feel their safety is at risk. We do offer a price-break when sharing a cage, however if separated during their stay, prices will reflect changes).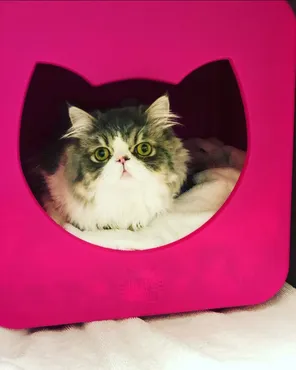 (Cat cozy)
---
Safety protocols & requirements to stay with us:
In order to ensure safety of all cats in our care, our doctors have set protocols to help prevent the introduction or contraction of infections, parasites, or viruses in the environment. (If medical circumstances restrict your cat from any of our requirements, please let a boarding staff member know when confirming reservation details).
For your cat to stay with us, they must be current on the following:
--Rabies vaccination
--Distemper vaccination
--Negative stool sample within the last year
--Flea/tick & internal parasite prevention. Our top recommended combination product is Revolution Plus.
If your feline companion is in need of flea prevention, this can be ordered from our online store, & shipped directly to your home. Revolution can also be purchased from our office with a simple call-ahead.
If you have further questions about preventative products or requirements,
please don't hesitate to call our office at 989-893-4549 or email us at [email protected].
We would love to share our knowledge!
---
The BAH difference: Treat your pet to a stay with us!

-- Climate controlled boarding area to ensure your pet is comfortable.
-- A quiet, enclosed room where your cat can relax.
-- Monitoring by well-trained & experienced pet-care providers who have a true passion for pets!
-- If you would like to receive a text message with a picture of your fur baby daily, please check the box next to that option on your reservation form.
-- A doctor and technician is on staff daily, making sure your kitty is in good, visible health & comfortable while with us.
-- Options to have additional services rendered while boarding with us can be taken care of as long as you schedule this at the time of your boarding reservation. These may include a toe nail trim, ear cleaning, anal glands expression, coat brushing, or surgical procedures such as a dental cleaning, or spay/neuter, etc.
-- Out-of-cage playtime in our play-room is frequently offered throughout the day to your cat; If your cat chooses to come out to explore, they will have access to our 6 foot cat tree & interactive toys! Your cat will only be let out by themselves or with cage-mates!
---
Our recommendations:
If you have concerns that your cat may become extremely anxious during their stay, we suggest checking the box on the reservation form, allowing us to treat minor issues. This will give us permission to provide a low-dose anxiety medication, should they present severe stress or anxiety while you're away. (Examples of minor issues may include a decline in appetite, vomiting or loose stools, etc.)
We recommend BOOKING AHEAD as our cat beds fill up quickly & condos are limited! We do not currently have a cancellation fee in place, but do appreciate a call in advance should you no longer need our services.
Thank you for placing your trust in Bay Animal Hospital.