Lobby/Reception Area - Our lobby features a 218 gallon fresh water aquarium that helps separate the seating area. This helps our patients feel comfortable if they are uneasy about new people or other pets.


Treatment Area - Our treatment area includes an in-house laboratory to provide quick results, a videoscope, specialized tables for dental cleanings and an oxygen therapy cage. This area also contains comfy cages for our hospitalized patients, that allow us to closely monitor and care for them during their stay.

Isolation Ward - Bay Animal Hospital is proud to be one of a few private practices that contain a true isolation ward. This ward minimizes the risk of exposure for animals with infectious diseases.

Surgery - Our surgery suite is equipped with two surgery tables containing an internal warming system to keep our patients warm. We preform laser therapy to reduce bleeding and chance of infection. For every surgery an inhaled anesthesia delivery system is used. Attached to the suite is a recovery room with glass doors to allow constant monitoring during the recovery process.

Radiology - We offer digital radiography that are capable of imaging large animals with better detail. Our radiology area also includes a digital dental x-ray machine and ultrasound equipment.

Pharmacy - We have an in-house pharmacy with all the basics your pet may need & our very own online pharmacy. Our online pharmacy offers specialty products as well as the basics with everything received straight to your doorstep!

Exam Rooms - We have six spacious exam rooms. All rooms are fully equipped & stocked to make your visit efficient.

Conference and Break Area - Our conference area reflects our emphasis on continued education for our staff & a calming space for our team members to recharge & be their best for you!

Boarding Facility - Our kennel area includes climate controlled cages, skylights for natural light, & everything your pet should need during their stay with us. We have a fenced-in backyard for boarders to stretch their legs & have some playtime! Our cat condos feature cat perches and portholes allowing your kitty to move around as they please.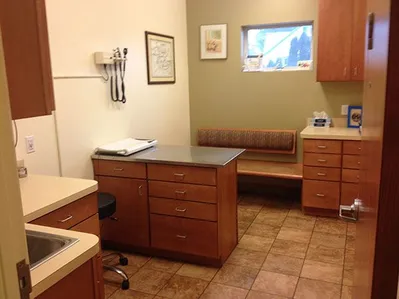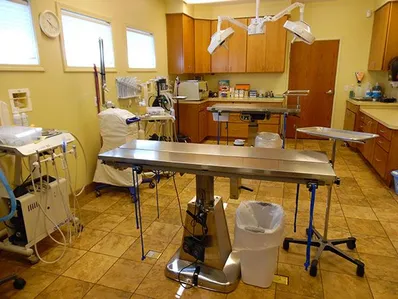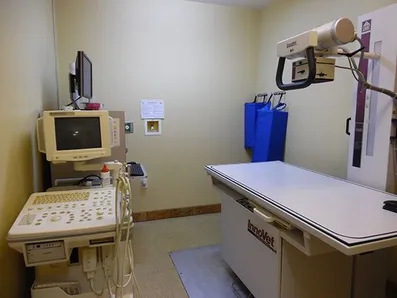 If you have any additional questions for us, feel free to visit our Doctors, Services, or Newsletter pages! Alternatively, feel free to reach out anytime!