Bruce W. Francke, D.V.M. - Practice Owner
Dr. Bruce Francke is an Essexville-Hampton native & Garber High School graduate. Bay Animal took care of the many pets in the Francke household growing up, and has helped inspire both Dr. Bruce Francke & his brother Dr. Brad Francke to spend their careers as veterinarians.
Dr. Francke has been practicing at Bay Animal since 1993 & is a current member of the Michigan State University, College of Veterinary Medicine Alumni Council. He is also a former recipient of the Bay County Humane Society's Humanitarian of the year award!
Dr. Francke enjoys all aspects of the canine & feline medicine, with a particular interest in dermatology & internal medicine, including endocrine disorders & cancer medicine.
His vision for Bay Animal Hospital is to continue to provide patients with access to state-of-the-art medicine, right here in our small town, & to always treat clients & patients with compassion & honesty.
Dr. Francke can be found painting, running, or spending time with his family. He & his wife Leslie have two children, three grandchildren, & four dogs--Stella, Bailey, Chewy, & Poppy. They also have a horse named Eddie.
---
Steve P. VanOchten, D.V.M. - Practice Owner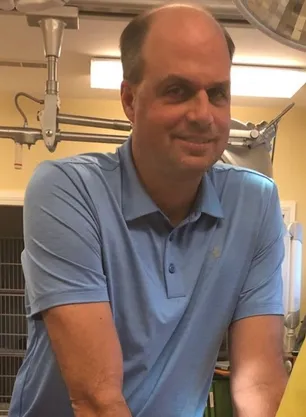 Dr. Steve VanOchten is a Veterinarian & practice owner of Bay Animal Hospital. He was born & raised in Essexville. Dr. VanOchten has been a member of the Bay Animal staff since 1996. He obtained a Bachelors in Science from Michigan State University, also receiving his Doctorate of Veterinary Medicine from MSU in 1995.
He is a general practitioner with special interest in surgery, internal medicine & preventative care. Dr. VanOchten is a current member of the MVMA, AVMA, & SVVMA.
When he is not working, he can be found with his family-- his wife Cynthia, their two children, & their Havenese-- Stuart. Dr. VanOchten enjoys sports, being outdoors, hunting, & being involved with his kids' extra curicular activities.
---
Megan Tomich, D.V.M.


Dr. Megan Tomich grew up in rural Southeast Ohio, & is a 2004 graduate of The Ohio State University College of Veterinary Medicine. After graduating, she worked at a mixed-animal practice near her hometown for a few years before moving to Michigan with her family.
Dr. Tomich has a special interest in preventative & shelter medicine, soft tissue surgery, & the human-animal bond.
She resides in Midland with her husband & their four children. Their pet family includes three cats, thirteen chickens, and two dogs-- Molly & Rosie.
In her spare time she enjoys boating, gardening, reading & attending her children's various activities.
---
Hanna Vecsernyes, D.V.M.

Dr. Hanna Vecsernyes is a Michigan native & a graduate of Michigan State University, College of Veterinary Medicine. Although first a loyal Spartan, she received her bachelor's degree from the University of Michigan-Flint, & also cheers for maize & blue. She was raised on a small farm in rural Michigan.
Dr. Hanna is an avid outdoor enthusiast who enjoys hiking, canoeing & kayaking. She spends her spare time with her husband & their son James. Together they have three rescue cats-- Elmer, Maggie, & Gandalf.