Please take a moment to meet the wonderful team at Bay Animal Hospital, each of whom are eagerly waiting to provide your beloved pets the top-notch veterinary care they deserve! 🐾
We are proud to say that our entire staff takes part in frequent continuing education, as we are always striving to sharpen our skills and expand our knowledge to better serve you and your pets, from the front desk to the doctors.
Our team believes in cross-training our staff members so that we all have the capabilities to best assist you and your furry companions, whether we're making you an appointment for a routine exam, you have an emergency situation, or even just to offer tips for everyday care.
We hope that you enjoy being apart of the Bay Animal Hospital family as much as we do!
---
Meet our Management Team:
Chief Human Resources Officer -- Peter

Pete started at Bay Animal in January of 2020, after previously working at Animal Services & Adoption Center (formerly Animal Control) for a couple years. When a wellness visit to the shelter turned into an unintentional scouting trip for the most purrfect feline, Pete was ours.
When he's not sleeping on the job, he's usually sitting somewhere he's not supposed to be; you can usually find him on the fax machine or on a stack of client files.
Though strict at times, Peter has made a wonderful addition to the Bay Animal family & he knows he's found his furever home with us.
---
Practice Manager -- Michelle, L.V.T.
Michelle began her career at Bay Animal Hospital in 1998 as a Veterinary Assistant. In 2003, she graduated from Baker College of Flint with an Associates degree in Veterinary Technology. In 2015, she became the purchasing department lead. In 2019 she became an Assistant Practice Manager, & in September of 2022 she took over as PM of BAH.
Michelle resides in Bay City with her husband Jeff, son Jacob, & daughters Megan & Samantha. She enjoys spending time with her family, camping, biking, & fishing.
She has a German Shepherd named Zola & two tabby cats-- Chloe Princess & Charlie Peanut.


---
Assistant Practice Manager -- Jessica, L.V.T
Jessica is an LVT, graduated from Michigan State University in 2015. She started as a kennel attendant here in 2013, while working on her Bachelor's in Veterinary Technology. She became a Team Lead in 2019 & in October of 2022 took on the position of Assistant Practice Manager.
Jessica has a strong passion for ultrasound, anesthesia, & dentistry, (& she rocks at it, we might add!)
When she's not at work, Jessica enjoys fishing, snowmobiling & being outdoors with her husband, D.J. & their daughter. Jessica has a rescue Labrador Retriever, Rolo at home.
---
Meet our L.V.T.'s:

Technologist -- Tiffany, Director of Education
Tiffany is a Michigan State University graduate of the Bachelor Veterinary Technology program & has been practicing as a Licensed Veterinary Technologist here since 2009. Before coming to us, Tiffany worked at the MSU Teaching Hospital in the emergency & critical care department.
Components of veterinary medicine that she loves most are emergency & critical care medicine, as well as ultrasonography. Another passion of Tiffany's is C.E. or continuing education for our team. In 2022, she established a new position of BAH as our Director of Education & makes sure our staff is always keeping up with the latest & greatest in veterinary medicine so we can best treat your pets!
Tiffany is a Bay City native who enjoys spending time outdoors & long distance running.
She also loves spending time with her husband Kevin & their two children. They have a Golden Retriever named Gideon.
---
Technologist -- Jenna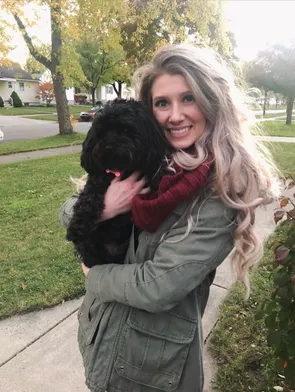 Jenna joined our team in 2014 as a kennel attendant & in 2018, she graduated from Michigan State University with a Bachelor of Science in Veterinary Technology.
Her passion in veterinary medicine lies in patient care, emergency, & animal behavior.
In her free time she enjoys spending time with her boyfriend David, being outdoors, fitness, & being with her family & friends.
Jenna has one dog named Max.
---
Technician -- Alice, Head of Angel Pet Fund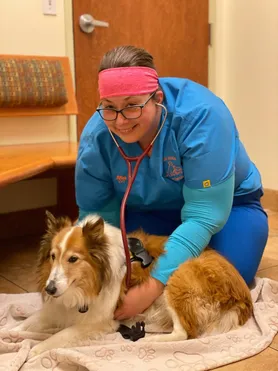 Alice has been with us since 2020 & we love having her!
Alice has been in the vet med industry for six years. Her true passion in veterinary medicine is being able to share her knowledge with pet owners who come to us with a sick baby. She enjoys helping them understand that in most cases there are medications, diets, or other various treatment paths we can take to help their pets live longer, healthier lives.
In October of 2022, Alice took over as head chair of the Angel Pet Fund of Bay Animal Hospital!
At home, Alice has a dog, Desiree, & five cats, Scout, Miss pretty, Jamie Lee, Sarge, & Will Turner. She also has a bunny named Pepper.
Her hobbies include counted cross-stitch & reading.
Snuggles from her patients get her through stressful days!
---
Technician -- Paige, Inventory Specialist, Team Lead
Paige joined our team in 2017 as a boarding attendant & has since expanded her realm into our front desk as a CSR & into the workflow of appointments as a VA.
In 2022, she graduated as an LVT, became a Team Lead & took on the role of Inventory Manager. Paige has always had a strong passion for animals & knew she wanted to work with them in some way from a very young age.
Paige has found a special interest in animal behavior & physical therapy for pets.
In her free time she enjoys to read, Pinterest, home-improvement projects, travel, & spend time with her husband, Daryl.
Together they have 3 dogs, Lila Bell, Dune & Devin, two cats-- Marco & Polo, & a handful of fish.
---
Technician -- Heather

Heather started her career with animals in the equine world working with veterinarians in Lexington, Kentucky. She later began working in small animal general practices in 2018. Heather has her associates degree from Penn Foster's Veterinary Technician Program and her bachelor's degree in Animal Science with a concentration in Animal Biology from Michigan State! Her passions in vet med include pet obesity, training/socialization, and teaching responsible, healthy breeding.
Heather says she loves BAH because of the wonderful team she gets to work with and friendly culture across the hospital. She says she can sense a genuine passion for quality patient care and enjoys taking part in sharing that with our clients and patients.
When she's not at work, Heather is probably gardening, paddle-boarding, hiking, or training/competing in various dog sports.
At home, she has 2 Labrador Retrievers, Ezra & Cricket.
---
Technician -- Marissa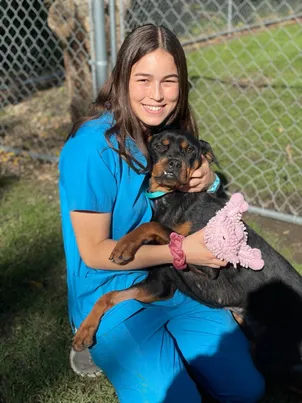 Marissa started with us in 2021 as part of our patient care team. She attended Baker College throughout her first couple years with us, working toward her veterinary technician license and is now an LVT! Animals are truly her passion.
Marissa says she loves coming to work, as she is always getting to learn something new about taking the best care of animals. She enjoys her one-on-one time with the pets--feeding, medicating, & assisting doctor in the room during appointments.
She enjoys being outdoors & playing video games in her free time. At home, she has a Labrador, Luna, & 24 African Cichlid fish!
---
Meet our Veterinary Assistants:
V.A. -- Laura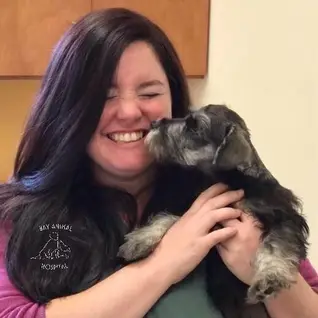 Laura graduated from Michigan State University in 2013 with a Bachelor's degree in Animal Science. She joined the Bay Animal family in 2014 as a veterinary assistant & often assists in surgery and as a client service representative. In her spare time she enjoys showing horses.
Laura enjoys assisting in extensive medical cases, partnering with team members in finding the most effective treatments or procedures to help a pet feel better again. She has also taken on many other important roles at BAH including our in-house tech wizard & she takes pride in making sure your needs are met in the aftercare process of beloved, passed pets.
She has two Corgi's, Delilah & Piper, along with a horse named Reba whom she spends much of her time with.

---
V.A. -- Hannah L.
Hannah joined our team in the fall of 2016. She attended Lake Superior State University for two years while studying fisheries & wildlife management. Because of her love for animals, she decided to pursue a career in the veterinary field.
Hannah plans on continuing her education to become an LVT in the future.
In her free time she enjoys spending time with her husband, Ryan, reading, horseback riding & playing with her cats Caesar & Calypso.
She also has a horse named Ember & a bunny named Fern.
---
V.A. -- Alexis
Alexis joined the BAH team in 2021 & has made a great addition! Before coming to us, she has spent much of her time volunteering at another vet hospital & shelters, & has also worked at a pet store!
Her passion is evironment enrichment for animals & her goal is to pursue a career in zookeeping, working specifically with primates.
Alexis is currently enrolled in school at Delta College. Her favorite part about working at BAH is the positive work environment.
In her free time, Alexis likes being outside, getting her creative juices flowing, & a newfound hobby of hers is film photography!
At home, she has 2 cats--Kitty & Nugget & a bunny named Peaches.
---
V.A. -- Lindsi A.
Lindsi started their career at Bay Animal Hospital as a Kennel Attendant in 2019 & now also assists the front desk as a Client Service Representative, & in appointments as a veterinary assistant.
Prior to joining our team, Lindsi attended Ross Medical Education Center, where they became a Certified Veterinary Assistant.
When they're not at work, Lindsi enjoys reading, drawing & spending time with their guinea pigs-- Oliver & Winston.
They also have a rescue cat, Gladys, and a rescue dog, Edgar, whom you can often find at our front desk!
---
V.A. -- Samantha Y.
Bio coming soon!
---
V.A. -- Olivia S.
Bio coming soon!
---
V.A. --