Bay Animal Hospital is proud to provide our patients with access to radiographs, both full-body + dental, and diagnostic ultrasound.
Should your pet come in to see us with an ailment, our team operates with a goal of identifying the root or cause of an issue, rather than simply prescribing medications or a temporary treatment that may be merely masking a deeper health concern. If an x-ray is an appropriate diagnostic for your pet's concerns, and funds allow, our doctors rely on our readily available x-ray technology to provide us with deeper insight as to what could be causing your pet pain or the symptoms they're presenting with.
Our in-house x-ray machine allows our team to quickly diagnose common health concerns such as the ingestion of a foreign body, a potential enlarged heart, or a broken bone. We are able to take your pet immediately from their appointment to our x-ray room, where we can snap instant, digital images and gain deeper insight as to your pet's current health status, and in turn this information allows our team to put together the best treatment plan to get your furry family member on the mend.
If your female pet is displaying signs of a potential, unplanned pregnancy, we can also use radiograph technology to confirm pregnancy and estimate potentially how many fetus are present. Should your pet have a dental cleaning performed at our hospital, our digital dental radiograph machine is part of even the most routine dental procedure, as it allows our team to get the best picture of your pet's oral health. As more than 3/4 of the tooth lies beneath the gum-line, performing this imaging is vital in helping our team identify which, if any, teeth should be extracted.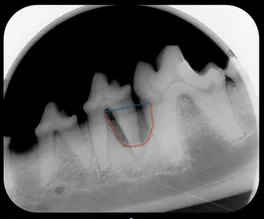 (Dental radiograph of a feline patient, displaying vertical bone loss due to untreated dental disease; photo credit to MedVetForPets)
Ultrasound
Though we are not board-certified in ultrasound, our DVM's and several of our technologists have adequate experience with performing them. The goal of performing an ultrasound for patients at our practice is to rule-out major inconsistencies within the body such as the presence of a mass or bladder stones, an organ appearing enlarged, or free- fluid within the abdomen, to ensure our doctors can properly treat their patients without potentially missing a major piece of their health picture.
Should our doctors or veterinary nurses be unable to get the best picture of a patient's internal health via ultrasound, we may then refer you and your pet to a board-certified ultrasonographer or another specialty hospital that can perform more advanced imaging such as a CT or an MRI. Bay Animal Hospital maintains great relationships and connections to several surrounding specialty hospitals and can certainly assist in getting your pet the extended care they need, even when we are unable to at our office.